ECONOMICS GRADE 7 WORKBOOK
Economic Management Science is still a mandatory subject from Grade 7 to 9. The unique Economic & Management Science workbook contains explanations and exercises for Grade 7 learners. As experience has shown, the concepts for this subject are often not captured in Grade 7 satisfactorily and learners tend to find this subject challenging in Grade 8 and 9.
EKONOMIE GRAAD 7 WERKBOEK
Hierdie vak is tans verpligtend vir Gr. 7-9. Die werkboek bevat goeie verduidelikings en oefeninge vir Gr. 7's. As hierdie konsepte reeds in Gr. 7 goed vasgelê is, is die skuif na Gr. 8 en Gr. 9-werk baie eenvoudiger.
Hierdie werkboek bevat vrae en antwoorde om onderwysers by te staan met die aanbieding van die inhoud in die EBW-werkboek.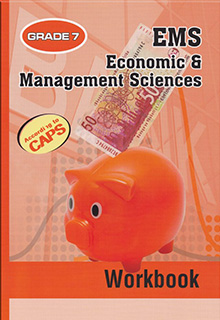 HARD COPY
Place your order below for a hard copy. Collection can be arranged immediately.
EKONOMIE GRAAD 7 WERKBOEK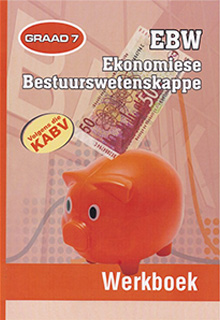 EKONOMIE GRAAD 7 WERKBOEK
HARDEKOPIE
Plaas U bestelling hieronder vir 'n hardekopie. U kan aflewering binne 7 dae verwag.