GEOMETRY WORKBOOK
The Geometry Fun book for Grade 12 is a well compiled guide for teachers and learners created to simplify mathematical problems. Geometry, which is notorious for being the most difficult part of mathematics for many learners, is explained in a step-by-step manner. The book firstly introduces the basic theory that learners have to know and understand. This is followed by 12 exercises with explanations and 20 questions with a CD containing the answers. This book has been found to be very valuable to learners who have worked through it for revision purposes.
MEETKUNDE WERKBOEK
Die Meetkunde Pretboek vir Gr. 12 is puik saamgestel met 'n handleiding vir probleemoplossings vir onderwysers en leerders. Meetkunde, wat vir meeste leerders die moeilikste deel van die Wiskunde is, word stapsgewys aan die leerders verduidelik. Die boek begin met teorie wat die leerders eers moet leer en goed verstaan, waarna 12 oefeninge (met verduideliks) daarop volg. Twintig vrae en 'n CD met antwoorde daarby word ook hierby ingesluit. Die leerders wat hierdie boek van begin tot einde deurgewerk het, het dit baie waardevol gevind.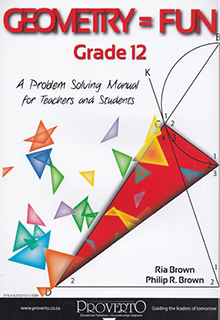 HARD COPY
Place your order below for a hard copy. Collection can be arranged immediately.
ANSWER SHEET
Download your answer sheet in PDF format.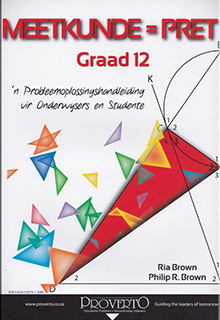 HARDEKOPIE
Plaas U bestelling hieronder vir 'n hardekopie. U kan aflewering binne 7 dae verwag.
ANTWOORDSTEL
Laai U antwoordstel af in PDF formaat.